Outstanding Accommodation
Wake up to the sound of waves crashing softly just beyond your doorstep. This boutique holiday resort offers well appointed modern holiday units, caravan and camping sites–all with easy and convenient access to Tuross beach and lake.
Executive Beach House
These luxurious studios are positioned at the front of the park with magnificent views of the ocean to Montague Island, the beach and Tuross Lake. Ideal for a romantic getaway or for the whole family, the Executive Beach House is available with one bedroom or two bedrooms and two bathrooms.
Beachfront Cabin
These comfortable holiday cabins featuring stunning views are located at the front of the park facing Tuross Beach and the lake.
Beachview Unit (Elevated)
Ideally positioned holiday studios overlooking the beach to experience the majestic views of the ocean, the inlet and Tuross Lake.
Holiday Unit (Elevated)
These holiday Units are situated behind the beachfront cabins and have partial water views and remove the bit about lovely views etc.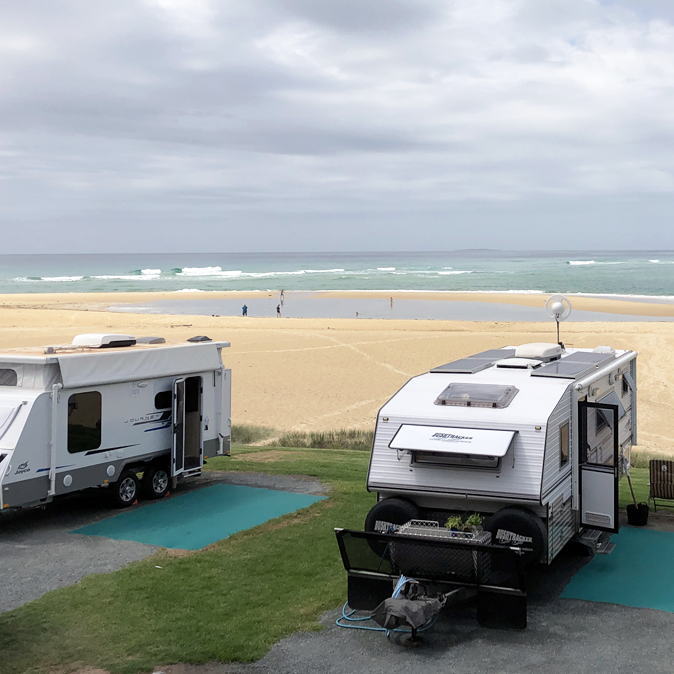 Powered & Unpowered Campsite
These beachfront units at the edge of the park open right onto the ocean and have remarkable Montague Island and Tuross Lake views.
"We stayed at Tuross Beach Holiday park in one of their deluxe beach front cabins and it was just perfect. Stunning views, Kookaburras visited us on our balcony every day, the kids could ride their bikes safely around the park and there is a fantastic bike path all the way into town. We collected shells on the beach, went walking, and ate some amazing fish and chips down at the Pickled octopus and the Boatshed. A warm spa bath with a glass of wine at night was a lovely finish to the day. We will definitely be back."
Hattie T.
Canberra
Spent a couple of days, marvelling at the beauty that Tuross Heads has to offer. Stunning views, protected from the winter chill in my cosy, warm elevated cabin. This park is beautifully maintained, quiet, peaceful and pristine at this time of year. The location is truly spectacular with a friendly management team.
Greycc
Melbourne
We recently escaped Sydney and enjoyed a few days at Tuross Beach. It was the perfect place to relax and re-charge the batteries. Our beach cabin was ideal. If you like beach walks, swimming, fishing, canoeing or just doing nothing this is the place. We will definitely return.
CR Richards
Sydney
We had a beachfront powered site with uninterrupted views of the ocean. Beautiful pink sunrise and to hear the ocean was very peaceful. We hadn't been here before and we will be back. Would definitely recommend this park to anyone travelling in this area.
John W
Blayney